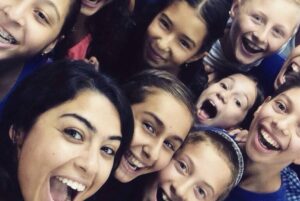 Raising a generation of change-makers
The demands put on youth today are unparalleled in many ways. Days filled with after-school activities and nights of ever-increasing homework are a toll on both young people and their families. There seems a constant battle to schedule and squeeze-in activities, all the while trying to raise children of character, guided by the values, traditions, and principles you hold.
Committed to Working Alongside you
OUR PROMISE
Kids4Peace Boston aims to help and walk alongside your efforts to raise children of character, driven to bring about social change through the lens of their own faith traditions. Kids4Peace helps young people put feet to their faith by inspiring them to explore their own faith traditions, respectfully observing the faith traditions of others, and then working together to bring about the change this world needs.
We Will:
---
Provide space for your child to safely explore their own identities and the identities of those who are different from them, particularly focused on religious identity, but including race, ethnicity, ability, socioeconomic status, and more.
Respect the religious beliefs and practices of all our participants. Staff work to ensure that prayer practices and worship customs of participants are honored at all times by adults and youth alike. This includes making every effort to accommodate religious dietary needs, prayer practices, and other religious practices throughout our programs.
Encourage your teen to draw from the elements of their faith tradition that most speak to them and use these teachings to serve the common good and find shared ground with those who are different from them
Help your child build deep friendships across lines of difference that society draws, and help them use these interfaith and intergroup friendships as a community of support from which to lead social change
Give your child the knowledge, tools, and desire to become leaders for positive social change, not just in the future as adults, but right now.
Always provide easy, no-hassle access to scholarships for our programming. Our highest priority is your family's participation, and we believe that cost should neverkeep your child(ren) from participating or being part of our community.
Create a space where the physical and emotional safety of young people is always our top priority, even while asking participants to grow and stretch beyond their comfort zone.
We Will Never:
---
Proselytize or allow anyone associated with the program (including but not limited to staff, volunteers, and participants) to attempt to convert others to a different religion or faith
Allow your child to participate in the prayers or religious practices of other faiths. Fostering a deep respect for religious observances different from one's own is at the very heart of the interfaith learning that occurs in Kids4Peace Boston. At times, Kids4Peace Boston participants are invited to "observe with respect" during the worship services of each faith and encouraged to ask questions afterwards, a powerful experience of mutual trust. Kids4Peace Boston does NOT, however, practice "interfaith prayer" or allow participation in one another's services. While these can be meaningful in adult interfaith dialogue, they are not appropriate for children.
Define who is "religious enough" to participate in our programs. At times, our programs include sharing religious practices, beliefs, and customs with one another. Having a personal connection to Christianity, Judaism, or Islam is an important part of meaningful participation in the program. However, we do not define what practice means to families, and we welcome children of all observance levels within their tradition.
Push a singular viewpoint on anyone. In all matters, youth in K4PB's programs will be asked to consider multiple views, engage in conversation across difference, and think critically to form their own opinions.