Did you know that Kids4Peace Boston is on the verge of exciting changes? In the new year we will be rebranding the organization and enhancing our mission! What won't change is our dedication to bridging societal divides through interfaith action and advocacy. Help us continue to empower youth throughout the Greater Boston area and surrounding communities while also entering for a chance to win!
For only $10 per ticket, you'll be entered into a raffle to win $1000 and get us one step closer to our goal of selling 1,000 tickets. Doing so will allow us to provide young people in the Greater Boston area an opportunity to come together despite the challenges of this year to advance peace and justice in our communities.
Raffle ticket purchases are not considered donations and therefore are not tax-deductible. 
Help us meet our goal of 1000 tickets sold!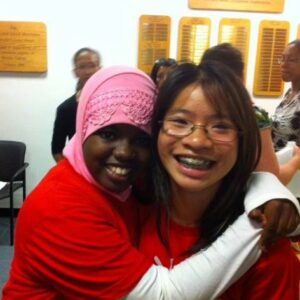 Simply donate to support our vital programming with a tax-deductible gift below.
1. You must be 18 years or older to participate.
2. You must be a resident of MA to purchase a ticket.
3. Entry Fee: $10/ticket, $50/6 tickets, $100/13 tickets, or $250/35 tickets (check or credit card is accepted).
4. Payment must be received by January 31, 2022 midnight to be entered into the drawing.
5. Winners will be drawn and announced on February 1, 2022.
6. Kids4Peace Boston will notify winners via phone or email within 24 hours of drawing date of raffle.
7. Prize money will be awarded in a check. Prize will be $1,000 to the first place winner, $250 to the second place winner, and a FitBit Charge 5 to the third place winner. The remainder will support Kids4Peace Boston programs. Cash prize is ordinary income to recipient. A 1099 will be issued to the winner and they will be responsible for all taxes associated with the winnings.
8. If 1,000 tickets are not sold by January 31, 2022 midnight, the drawing will be held on February 14, 2022 .
9. Raffle ticket purchases are not considered donations and therefore are not tax-deductible. 10. No member or employee of the organization or their immediate family members may purchase tickets to the raffle or win the prize.
Tickets must be purchased by midnight on January 31, 2022. Winners will be drawn on February 1st. 
We're so glad you asked!  Kids4Peace Boston advances justice in our communities through interfaith youth action and advocacy. Through year-round programming, middle and high school youth from diverse backgrounds come together to build community across religious and other divides, participating in experiential education programs where they "learn by doing" together. Throughout these programs they gain skills in understanding and valuing multiple perspectives, building trust, and problem solving collaboratively. Whether it is through advocating their views to lawmakers, leading interfaith workshops and dialogues for other youth, participating in service projects, or standing up for inclusivity and against bigotry in their communities, K4PB youth are actively creating a better world around them.
Check us out here!